Back
Faculty in the Spotlight with Ghassan Yacoub, professor of Innovation & Strategy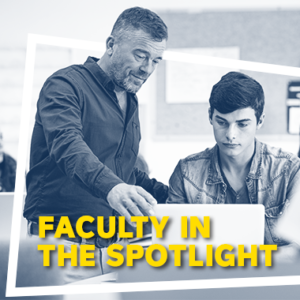 With more than 700 professors, including 186 permanent professor-researchers, IÉSEG offers to its students a high-quality learning experience, based on 4 key elements: an active, interdisciplinary learning process, focused on the acquisition of competencies, offered through customized curricula.
Each month, "Faculty in the spotlight" invites you to meet one of the School's professors who presents their vision of teaching, their methods for transmitting their expertise and passion to students and shares their best memories and stories at IÉSEG.
This month, we are meeting Ghassan YACOUB, Professor of Innovation & Strategy at IÉSEG and Academic Director of the MBA – Leadership and Coding track.
Ghassan, what's your background?
With a French-Lebanese background, I had the chance to live in several countries, out of which more than 8 years in London. I did my master's degree at ESCP Business School and Imperial College London before pursuing my PhD at Bayes Business School (formerly Cass). I also worked for several years in M&A Investment Banking in London. I then moved back to France to join IÉSEG in 2017 as a professor and now, I am also the Academic Director of the MBA HUB and Leadership and Coding track.
What's your area of expertise?
I am a professor in Innovation and Strategy. So, everything that is related to strategy, innovation, entrepreneurship, digital, emerging technologies… are topics that I like to communicate about to my students. Digital and innovation is very wide and transversal to many disciplines. I teach at different levels at IÉSEG: Grande École Program, postgraduate programs, MBA, and Executive programs.
Recently, I have taught new courses related to Artificial Intelligence and Blockchain – these topics are very important for the future of our students. I try to provide a comprehensive linkage between different topics and disciplines in the classroom because I think it's important for students to have a macro mindset that encompasses a transversal approach. I want them to understand how different disciplines interact together. They not only need to know what they are learning but also why.
Why did you choose IÉSEG for your career?
Initially, I didn't know IÉSEG very well. I got to know the School through other professors. I was immediately convinced by the values of the School, which are in line with my own values and beliefs. Moreover, the Vision – empowering changemakers for a better society – resonates with what I want to accomplish. One of the key components of the School is the people – we benefit from a nice and friendly environment and that makes all the difference on a daily basis, besides the reputation and the rankings of the School. The human and corporate culture is very positive and pleasant.
What do you like most about being a professor at IÉSEG and, according to your students, what are your strengths as a professor?
I love what I do. I really enjoy delivering the knowledge I have to my students in the classroom. My students usually say that I really care for them and I think that it's very important. Indeed, I see myself more as a mentor rather than a teacher who comes, gives a class and then leaves. I aim to build long-lasting relationships with my students. It is all about passion, dedication, the feedback you provide and the special attention you give to students in order for them to develop their critical thinking. I always treat my students as professionals and not as just students. I think that if you give responsibilities and trust them, they will be better prepared for their professional future and this also allows for a more collegial atmosphere in class. Overall, I am close to my students and I stay true to myself in the classroom. I think it is so important to be yourself when you are teaching because students see you as a human being above all. If you change who you are in the classroom, it will affect how you deliver content and how your students perceive you. It is very important to understand the different generations that you teach – how students learn, how they are evolving… Of course, you need to adapt your speech according to your audience but in the end, I am always myself. More than just a course, it is about the relationship you build with them and the impact you have on their lives.
What innovative pedagogical methods do you rely on?
I use a variety of pedagogical tools. It is important to keep students engaged – as a professor, this is one of our biggest responsibilities. So, I use a lot of different methods: real business cases, simulation challenges, guest speakers… I also bring cases from my personal work experience – I present to them what happened and how to act as a responsible decision-maker and what are the different variables they need to consider in order to make a decision.
In your opinion, what does your international experience bring to the School?
I have lived in many countries. This international perspective brings depth of different horizons and ways of seeing the world and I think that it is very important when you live an interconnected, globalized and complex environment. It is crucial to understand international dynamics especially for a School like IÉSEG that wants to become a unique international hub for changemakers. On a personal level, living in different countries has been a very enriching experience. When you exchange with people from different backgrounds at the School, it is also an enriching experience.
What's your best memory at the School?
I particularly remember the Learning Expedition I've done with colleagues in the USA – it was about diversity and intercultural aspects. I also did a Learning Expedition with my MBA students in Barcelona where the objective was to learn how to tackle the challenge of circular economy and sustainability and grow as a digital leader to elicit business model transformation and change. These are memories that will certainly last forever. Over the course of a week, you learn and grow with others and that is very interesting. This is what IÉSEG is all about in the end: to share human values together and try to make a collective impact through collaboration and joint effort.
On another note, I was very proud to win the IÉSEG Teaching Excellence Award – it was a great milestone after only two years at the School. Through this award, my students are somehow giving me back. It is very rewarding and gratifying to obtain this kind of appreciation from the students when you put a lot of efforts into your teaching.
How has the School evolved overtime?
It has changed. When I arrived at the School, the Paris-La Défense campus was kind of new, it was a new chapter in the history of IÉSEG. These past 5 years, we have made a lot of changes to our programs – the Bachelor program, the Grande École Program… but also in Executive Education where we created an MBA track in Leadership & Coding in partnership with Le Wagon, a leading international coding school. We also have created a new MBA Hub. We have strengthened out relationships with companies and the School is becoming more visible. I think the reputation has also increased over the years. Besides growing in size, we have also improved in terms of quality of the learning experience. We have welcomed a lot of new people – administrative staff and professors but we haven't lost this collegial and friendly culture, which is very important when you grow. IÉSEG never stops changing.
How about your teaching subject – how has it evolved?
It changes every week… you thus always have to keep up to date with the latest trends and be at the forefront of what's going to happen in the future. So, we actually don't teach the present but the future! We have to equip our students with all the tools they need to succeed in the future. Strategy, digital, tech, innovation… are topics that evolve extremely quickly, especially after the pandemic. I constantly update my materials – every week or every month. I read the news about my area of expertise every day to stay aware of what's going on.