Back
IÉSEG expands its campus in La Défense: 22,700 m² to enhance the student experience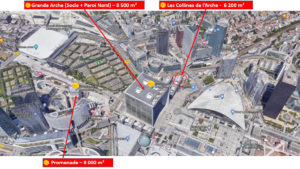 Established since 2009 in La Défense, Europe's leading business district with 3,600 companies, including 1,500 head offices, IÉSEG offers a dynamic campus at the heart of a professional environment. Each year, more than 3,000 students visit the current 16,500 m² campus, divided between the Socle (6,000 m²), the Promenade building inaugurated in 2017 (8,000 m²), and the Paroi Nord (2,500 m²) of the Grande Arche.
Within the framework of its student experience, responding to the evolutions generated by the health crisis (through the technological equipment of the classrooms) and by interactive teaching methods (role-playing and business games, flipped classes, group work, brainstorming, creativity and design thinking… ), as well as through the development of programs offered by the School (Executive Specialized Master in Transformation and Human Development Management, MBA in Leadership & Coding…), IÉSEG continues to expand its Paris campus and will have a new building by the end of 2022: Les Collines de l'Arche.
Located in the immediate vicinity of the Grande Arche and the Promenade building, as well as all public transportation (subway, RER, trains, and the future Éole line), this 6,200 m² building will be equipped with more than 25 modular classrooms with 25 to 65 seats, and will also offer numerous working, co-working, and social spaces.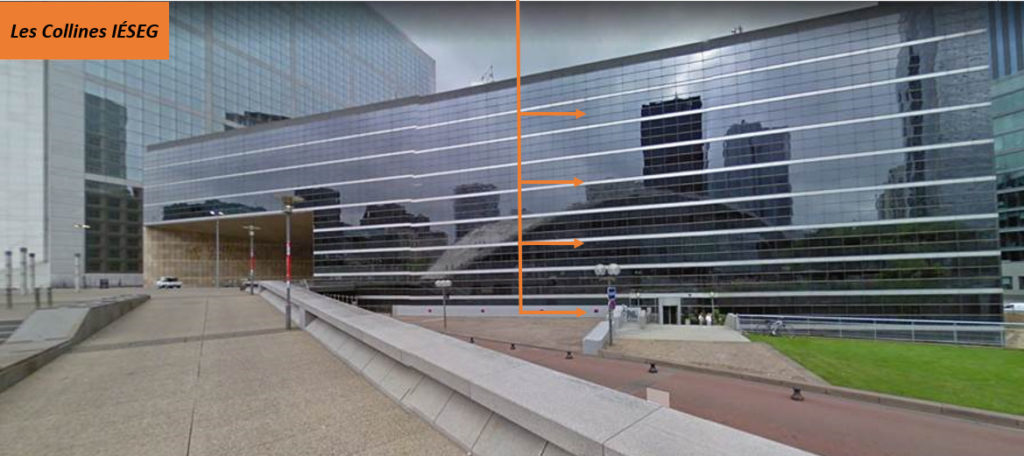 In order to strengthen relations between the School and its entire ecosystem (its graduates, its entrepreneurs, its partners in the socio-economic world, etc.), the vast Career Center of the School, its Incubator (which offers its incubates 3 support programs – Spark, Start and Scale), its Executive Education activities and its local branch of IÉSEG Network, the School's alumni association, will be located in Les Collines IÉSEG. Thanks to this dedicated space, Master's level students, participants in continuing education programs, incubates and graduates will be able to meet and exchange with their peers and experts present at IÉSEG more easily.
The extension of the La Défense campus is part of IÉSEG's overall real estate development strategy. At the same time, IÉSEG is continuing to renovate and extend its historic campus in Lille (4,600 m² of renovated space and 4,100 m² of new space), known as the IÉSEG Village, and is acquiring and redeveloping a complete office building (12,000 m²) in the heart of the Vauban district, also in Lille.
By acquiring flexible and functional learning and living spaces on its two campuses in Lille (eventually nearly 30,000 m²) and Paris-La Défense (22,700 m²), equipped with the latest technologies offering immersive teaching solutions, both physical and remote, IÉSEG continues to improve the quality of its infrastructure for its students, professors and administrative teams, as well as its entire ecosystem, in order to offer a quality experience and to encourage each individual's commitment to their learning.