Back
Meet the International MBA Class of 2017!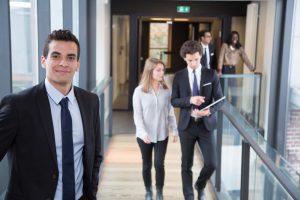 When asked to describe their experience on IÉSEG's one-year full-time MBA program, taught at the Paris campus in the heart of Europe's biggest business hub (La Défense), the adjectives and terms most regularly put forward by participants include: "diversity"; "career coaching"; "practice oriented "and "international".
This is not surprising considering the profile of the international MBA candidates and the School's faculty. The 26 participants on the program this year represent 16 different nationalities (from Europe, North & South America, Africa, and Asia) and various backgrounds in terms of industries and functions. Furthermore, 84% of IÉSEG's permanent faculty is from outside of France (from over 40 different countries).
For MBA candidates such as Simón Pedro Alberto Zimmer Krieger (from Colombia and the USA) this international exposure has been an important factor. Prior to joining the School he helped set up Aguayuda, an international non-profit organization based in the United States. He decided to come to IÉSEG because the program offered the right balance of "theoretical learning and practical hands on applications to develop the skills needed to be a successful international manager".
Another essential element was the possibility to follow electives in key areas to learn more, or reinforce professional skills. These included project management, digital marketing and consumer behavior. The School also provides personalized career coaching, French classes and access to the IÉSEG Alumni Association that he notes will be a "major benefit in the years ahead".
"IÉSEG was also the ideal school for me to develop the interpersonal skills needed to work with people from diverse backgrounds and cultures also in terms of languages and customs", he explains. He highlights that everyone has a unique experience and brings different skills, knowledge and abilities that everyone can learn from. "As we learn and grow as professionals, we are creating a special bond that will last a lifetime."
Other candidates, such as Siphiwe Ngobeni from South Africa, also underline the international perspective of the courses.
Siphiwe, who has worked for many years in the mining industry sector, explains that she was looking to the MBA program to provide a broad perspective on business so she can pursue an international career.
Meanwhile, Andrew Manouk from Canada explains that he is looking to the IMBA to help develop his international career in marketing, and is looking to complete his post MBA internship in France.
Directors of the MBA program Gwarlann de Kerviler and Jacob Vakkayil highlight that the MBA program at IÉSEG has been designed to be intensive and challenging for the MBA candidates who are looking to advance their career and take senior managerial senior roles. At the same time they underline that candidates will find it thoroughly engaging as they will be in the company of exceptional people from across the globe.
"The international faculty are dedicated to providing participants with their rich academic and professional experience," explains Gwarlann de Kerviler. "The mix of theory and practice will allow MBA candidates to focus on improving both hard and soft skills. In addition, individual coaching and small group workshops will help you to get ready for your next career move."
The IÉSEG MBA program, which has been accredited by AMBA is a full-time one year program taking place at the School's campus at Paris la Défense.
Further details about the course program and forthcoming webinars presenting the program are available on the IÉSEG website.
View the video presenting the IMBA program here.