MBA – International track
Overview
The International MBA is aimed at experienced professionals looking forward to future roles as global business leaders. The program equips participants with an in-depth understanding of challenges and opportunities in global business. They acquire knowledge in various management disciplines and sharpen their skills to apply it in concrete situations across a wide variety of sectoral and national contexts.
IÉSEG international MBA is accredited by AMBA.
This program IMBA provides a registered title with the French RNCP (National Repertory of Professional Certification) Level 7, recognized in France and in Europe.
In its first participation in the 2020 Global MBA Ranking, IÉSEG was ranked 38th globally, consolidated as the third school with the highest percentage of foreign professors (80%) and shares, together with two schools, the first place for the high percentage of international students.
The International MBA is part of the IÉSEG HUB MBA which offers three different specializations: an Executive track, an International track and a Leadership & Coding track. All participants benefit from the solid support of hub in terms of career program, common modules and learning expedition, corporate events, alumni interactions etc.
You will be a part of a thriving, diverse community and interact with experts and fellow participants across three different MBA tracks.
Directors' foreword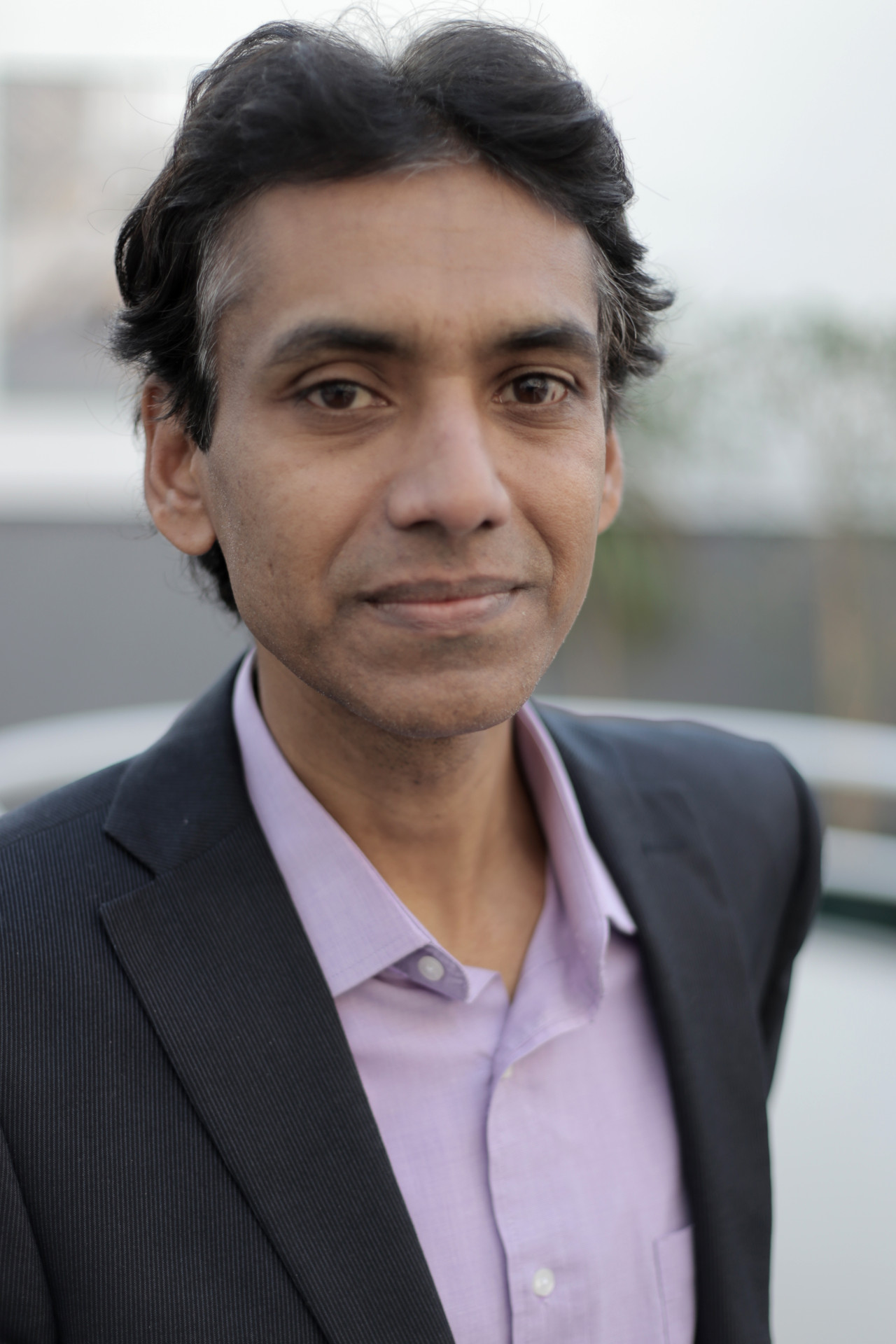 Dr. Jacob VAKKAYIL
If you have realized the need to develop your professional competence through a challenging and thoroughly engaging experience, the IMBA program at IÉSEG is an ideal solution.

The program is designed to meet the needs of change-oriented individuals seeking to improve themselves and expand their network. This design involves a broad-based approach that provides key managerial inputs considering current global organizational challenges. A diverse group expert faculty members facilitates modules all the while applying a judicious mix of both theory and practice.

We are located in the business district of one of the most vibrant cities in the world. The experience of living in Paris will set a very enriching context for your journey of professional and personal growth.

The International MBA offers you the opportunity to be among specially-selected brilliant people from across the globe, who are eager for a learning experience focused on global transformations.

I look forward to seeing you in our program.
International MBA – Presentation
Key Program Advantages
The program combines theoretical understanding with practical experience and skill development. The program is flexible so that, when choosing electives, participants can tailor the program to their interests.
Participants receive personalized support through coaching and a customized career development program.
The case method is used extensively to reflect real world challenges, allowing participants to develop innovative solutions for problem-solving.
This program provides a registered title with the French RNCP (National Repertory of Professional Certification) recognized in France and in Europe (Level 7).
The program ensures interaction with companies in various ways. Practicing managers are regularly welcomed to interact with participants. In addition, a learning trip in Europe is organized during the second semester for more intensive business and cultural exposure.
The IMBA faculty is a mix of both internal and external instructors from diverse backgrounds, either academically qualified with doctoral degrees or with at least 10 years of professional experience in their fields. They are passionate about teaching and providing support to participants so that they can achieve their full potential.
Studying at IÉSEG, you will be a part of a thriving, multi-cultural community and interact with cutting-edge experts and diverse participants across three different paths.
Career opportunities
The IMBA opens up exciting and rewarding international career opportunities in companies across the globe. IÉSEG supports participants in a number of ways to facilitate this transition and has a dedicated team to advise on your career development and to accompany your international job search.
IMBA Student Blog
A student blog presents the program and daily life at the school, with articles written by IMBA students.
Program Features
The IMBA is a generalist program, providing all the skills essential to leadership roles. The emphasis is on managerial performance and the curriculum is both rigorous and demanding. It is directed towards practical learning through the use of case studies, simulations, experiential activities, class discussions and group projects. The content of the program provides input into all key functional areas of management, including finance, marketing and human resources.
The program offers added value to work experience and career development by exposing participants to multiple business domains, which broadens their abilities, making them eligible for higher leadership positions upon graduation.
The multicultural environment enhances participants' personal skills to collaborate with others in varied environments. Also, participants are given the opportunity to develop a global network through in‐class interactions, access to the School's online alumni directory and corporate interactions.
Class profile
The International MBA attracts a wide range of people with diverse perspectives, cultures, opinions and talents from different regions of the world. The program attracts participants who are seeking to accelerate their professional career and progress to more demanding management and leadership roles.
It is designed to broaden their professional horizons with alternative management-oriented options and responsibilities, as well as new geographic regions. It targets individuals who are highly motivated, ambitious, open to integration in an international and multicultural setting and eager to explore multiple avenues to develop their technical, managerial and interpersonal skills.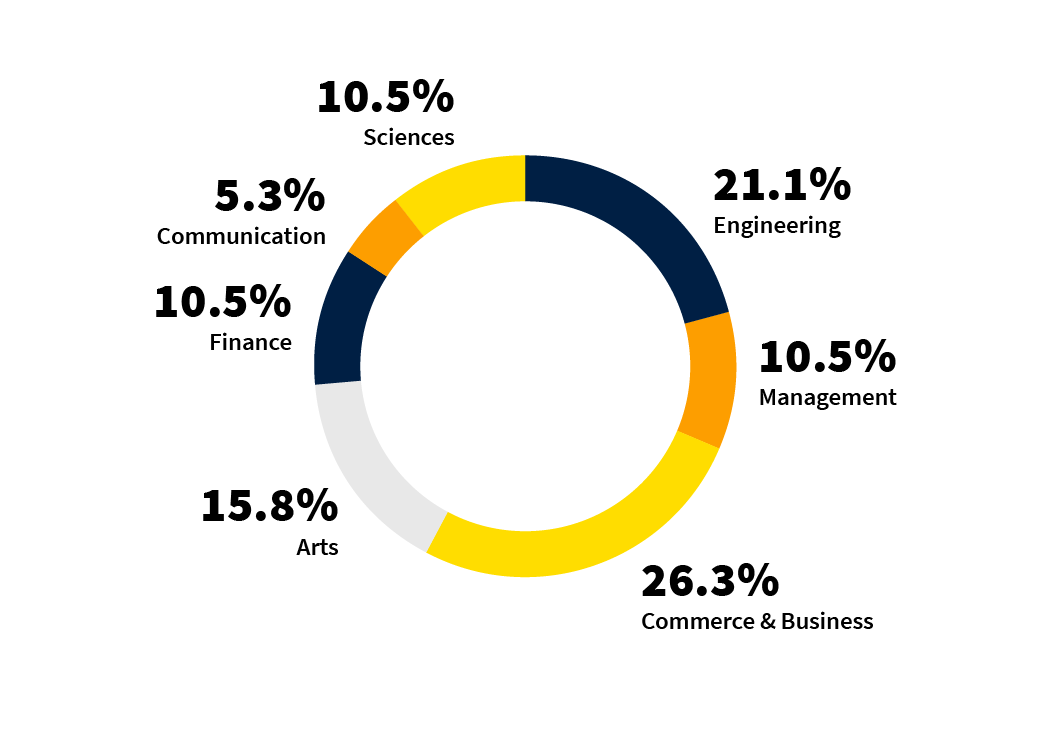 Pre-MBA Work Experience Average
7 years
Study in an International environment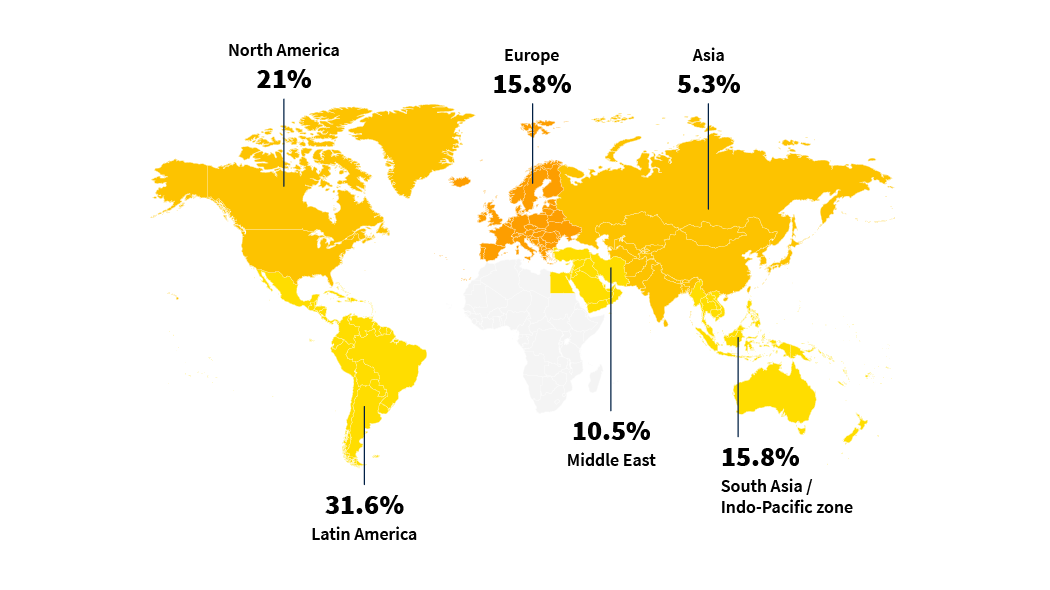 Meet With Us
Members of the international recruitment team will attend the following events over the next months. We would be happy to meet with you on this occasion.
You are already living in France and want to find out more about us in person? Contact us today to arrange a campus tour in Paris or Lille.