Overview
In a deeply changing world and in an increasingly competitive environment, there are many new challenges to rise to – how to build sustainable value; transformational and positive leadership; global and systemic decision-making; managing innovation and change; managing and capitalizing upon multicultural dynamics.
The objective of Executive MBA is to train the new generation of leaders who will have the capacity to take up these challenges.
Executive MBA is targeted at people having responsibilities in an organisation and who have a career development project towards a new role involving leadership and human competences. This Executive MBA program was designed to enable executives to continue working at the same time: 5 intakes per year, 4 immersive face-to-face days + 16 online hours every 6 weeks.
IÉSEG Executive MBA is accredited by AMBA.
This programme provides a registered title with the French RNCP (National Repertory of Professional Certification) Level 7, recognized in France and in Europe.
The Executive MBA is part of the IÉSEG HUB MBA which offers three different specializations: an Executive track, an International track and a Leadership & Coding track. All participants benefit from the solid support of hub in terms of career program, common modules and learning expedition, corporate events, alumni interactions etc.
You will be a part of a thriving, diverse community and interact with experts and fellow participants across three different MBA tracks.
Director's foreword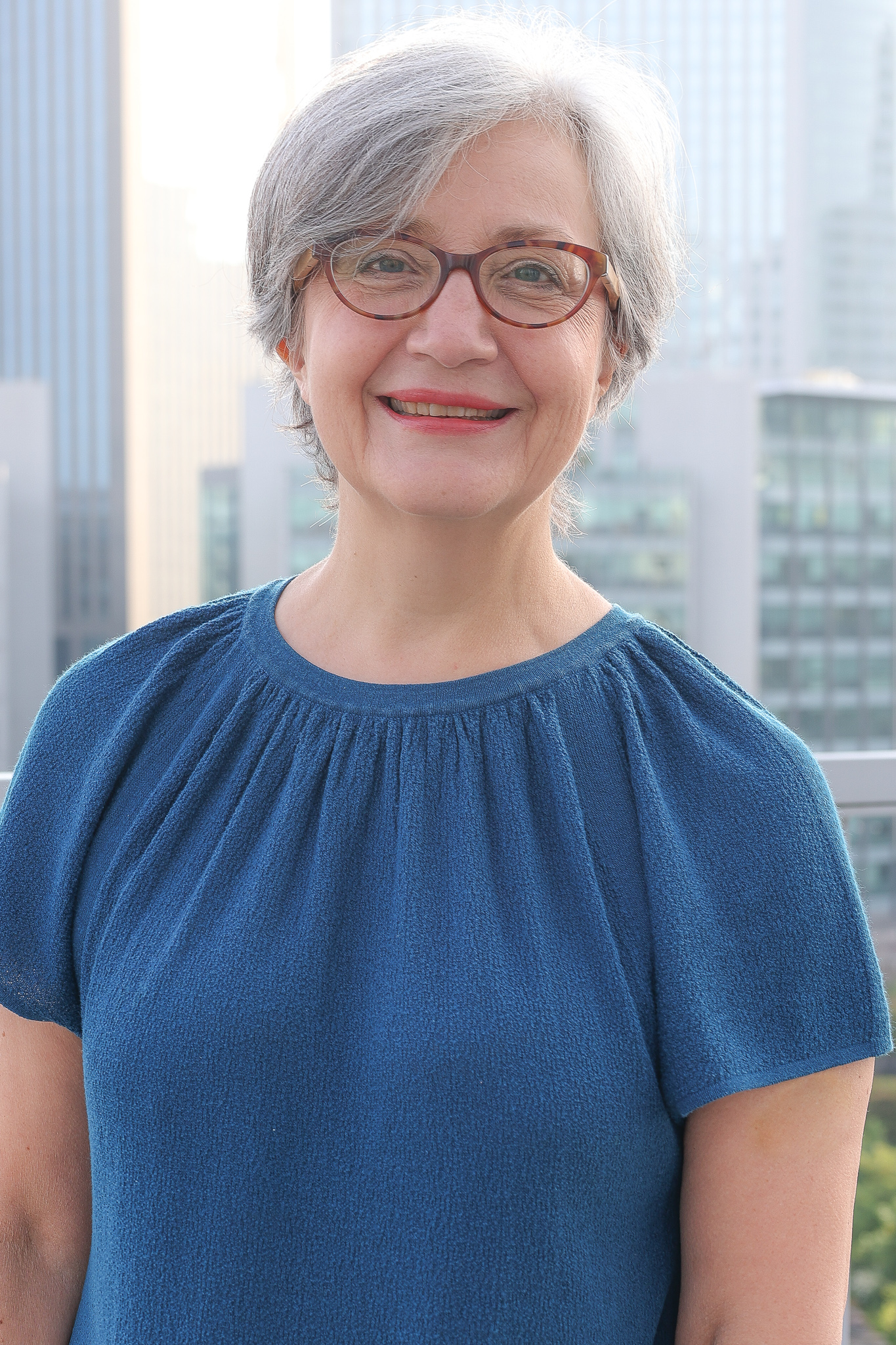 Pr. Pascale PATAT-DUBOUIS
Today's better organisations need changemakers who have the analytical, strategic and human skills that will enable them to inspire their teams and stakeholders towards a sustainable future. The philosophy behind the IÉSEG Executive MBA is to provide executives and managers with the knowledge, competences and confidence to develop their positive leadership and create sustainable performance for their organisations. These two pillars, alongside the development of a strategic mindset in a changing world, and the leadership of innovation, form the four key competences that you will develop through a series of interactive sessions, integrative projects, and two learning expeditions.On the program, you will interact with subject-matter experts who also have corporate exposure, and with other executives whose experience in different roles, sectors and cultures will enable you to put your own experience in perspective and enrich it. Alongside covering the essentials of contemporary business and management, the personalized elements of the program, especially the one-to-one career and personal development coaching and the professional consultancy memoire, will enable you to take stock of your experience to identify and pursue ambitious personal and career objectives through personal transformation. Whether you are considering boosting your existing career, further asserting your legitimacy, are contemplating a change of professional direction, or would like to better leverage your experience and expertise, IÉSEG Executive MBA will provide you with the competences and the confidence to lead at a higher level towards a sustainable future. All the best as you undertake this transformational and rewarding journey.
Executive Development and Innovation – Presentation
Benefits of the Executive MBA
A unique and innovative approach supported by our desire to train participants in positive and sustainable leadership.
Professional and personal growth module: identification of personal and professional assets, reflect on the aims of the participant for the future, engage with other stakeholders, so as to find his place as a future global leader in a changing society.
A customizable learning experience (electives, professional consulting thesis).
Speakers who are both academic and professional experts.
The various origins of our participants guarantee cultural diversity in class.
IÉSEG HUB MBA: By joining IÉSEG's MBA HUB, participants join a highly diverse community that facilitates collaboration and exchange across the three tracks: Leadership & Coding, International and Executive.
IÉSEG School of Management, accredited by AACSB, EQUIS and AMBA, is ranked among the top 10 of business schools in France and recognized by the Financial Times as one of the best business schools in the world.
Why do an Executive MBA:
DEVELOP YOUR COMPETENCES

As the world evolves, so do the competences one needs in order to play a leading role in the future of organizations. The program is designed to enable you to develop the skills to grasp the key dynamics taking place in organizations and in the macro environments, so as to create desirable futures at individual, organizational and societal levels.

The program is designed to enable you to:
> Develop positive leadership for collective intelligence
> Acquire a 360-degree functional view of business
> Lead innovations in an age of disruptions
> Adopt a strategic mindset
> Lead transformations in a VUCA world
> Grasp corporate finance techniques
> Tackle grand challenges from a business perspective

EXPLORE NEW POSSIBILITIES

During the IÉSEG Executive MBA, you will be able to explore new ways of thinking, creating and innovating. We provide you with a large range of electives (at IÉSEG and abroad) so you can create your own path and give your program the identity you want.

Also, as it is important to experiment and learn from other contexts, you will go on two learning expeditions to discover how business is done in a fast-evolving environment and in different environments.

EXPAND YOUR IMPACT

At IÉSEG, we want Executive MBA participants to expand their impact during the program. In the professional and personal growth module, we will help you to identify personal and professional assets reflect on your aims for the future, engage with other participants, alumni and corporate partners in various roles and sectors, so as to find your place as a future global leader in a changing society.

Participants will also develop subject matter expertise in the domain of their choice, by producing a professional consultancy thesis. They will identify an applied problem connected to their professional interests and objectives, and apply the latest knowledge and rigorous techniques to propose a set of innovative recommendations.

These two core components are designed to enable participants to measure their growth throughout the program. They will present the result of their work in an oral 'soutenance', which will act as a springboard for the next part of their career.
IÉSEG's Executive MBA is:
Average age: 44
Work experience : 19 years
Number of nationalities: 11
Gender: 36% women and 64% men
Achievement rate: 75.6%
Program's satisfaction rate: 84%
IÉSEG's services satisfaction rate: 84.8%
Partnerships

Partnership with Cegos

IÉSEG worked on a partnership with Cegos to develop its Executive MBA. A top-ranking European player, Cegos is a worldwide leader in professional training and development.

Combining the academic excellence of the School and the field experience of this renowned partner, IÉSEG's Executive MBA offers a comprehensive training program for the leaders of the future.
Class Profile:
The participants of the Executive MBA have diverse profiles allowing them to bring a great wealth of exchanges and projects. This diversity is reflected, in particular, by the different jobs from which they arise and the variety of the jobs that they perform.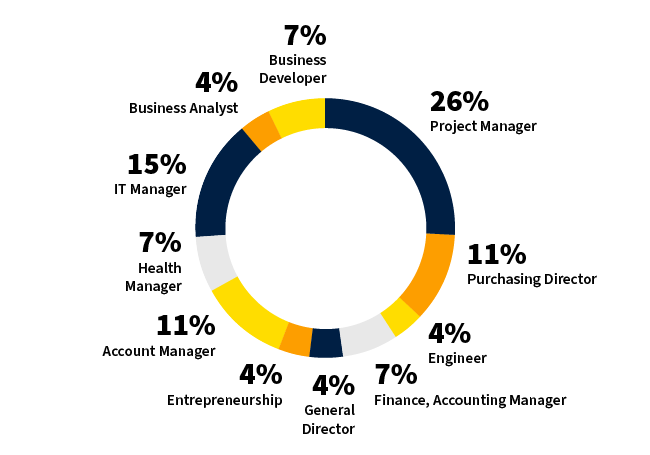 Diverse business sectors:
> Finance, Holding Banking and Insurance 17.9%
> Telecom, IT, Electronics 17.9%
> Other (Sport, Public Sector, Building, Media, etc.) 14.3%
> Retail, Trade 12.5%
> Pharmaceutical, Healthcare 12.5%
> Energy 8.9%
> Training, Education 7.1%
> Advertising 5.4%
> Transports 5.3%
> Consulting 3.6%