Master in Fashion Management Program
Curriculum
The Master in Fashion Management is the perfect program to specialize in Fashion and Luxury management.
The program is offered on a full-time basis and consists of 3 terms of courses and a 1-term professional experience. The curriculum is developed around introductory courses to build a common managerial background; core management courses; and specialized courses in fashion.
Our students benefit from a dedicated faculty with extensive experience and knowledge of the industry. There are collaboration with many companies and professionals operating in the fashion industry, from luxury to fast fashion retailers. Companies are involved in the program through guest lectures, consulting projects, internships/jobs and flagship stores visits.
Courses will be a mix of interactive lectures and traditional classes; guest speakers from the academic and fashion business community; corporate visits and seminars; and problem-based learning cases.
Program structure

Course Content
At the end of the course, the student should be able to:
Design performance evaluation and rewarding systems in line with organizational characteristics and strategies
Evaluate whether or not a particular accounting and management control system installed in an organization is appropriate for the needs of the organization
Understand and evaluate the transfer pricing methods used in decentralized organizations and multinational companies.
The contemporary convergence among art, design and lifestyle is becoming a new frontier of fashion, often underground and yet to be deciphered, where tomorrow's trends find fertile ground. To design a strategy and to manage its processes in the field of fashion it means first of all to recognize and interpret the signals – explicit and implicit – coming from the international markets, thus building a clear and convincing output, an individual and collective experience, a bind dialogue between brand and subject. Through the study of the fashion Branding procedures, related to the activity of product design, communication, service and mostly distribution, students will be invited to elaborate a detailed strategy aimed at the empowerment of a brand. The study of numerous successful international case histories will support the students to codify the processes through which a Brand concretely acquires uniqueness and charisma. The course invites all participants to the elaboration of an empowerment strategy at 360° in a specific Fashion context.
This course is an introduction to the issues associated with setting up your own business in the fashion industry. We look at opportunities and ideas as well as specific personal and industry challenges which entrepreneurs may face. We then investigated the idea of a business model and look at what a business plan constitutes. We also address resource acquisition and investigate how entrepreneurs acquire the financial and human resources necessary to exploit entrepreneurial opportunities in the fashion industry.At the end of this course, the student should be able to:
Differentiate between the types of firms in the luxury and fashion industry.
Understand the significance of budgeting, financing and investment decisions and how these decisions affect the value of the firm.
Effectively apply the corporate financial decision-making tools available to the manager at a corporation.
In today's environment, organizations must become more focused on customers. Customer Relationship Management (CRM) is a customer-based approach that link people, process, and technology to optimize the company's revenue and profits by first providing maximum customer satisfaction. This course will also walk the students through the basics of an Omnichannel Marketing and Distribution strategy and its implications towards Luxury Customer Relationship Management programs and the fundamentals of Clienteling within the Luxury industry.
At the end of the course, the student should be able to:
Take the customer perspective and consider customer needs to incorporate them in the design and communication of company offers.
Explain and apply key concepts and essential tools to the study of consumer behavior in a fashion management context, which means.
Understand the complexity of consumer behavior
Integrate the various factors likely to influence consumer behaviors in marketing decisions.
Evaluate marketing programs in terms of their adequacy in considering consumer behavior
Propose strategies adapted to the targeted public(s) in order to influence particular behaviors
The Luxosphere:
> The digital fashion luxury market
> Digital & Luxury : the paradox – Why coming so late ?
> New Consumer typologies & purchasing behaviours

Strategic recommandations:
> POEMS Digital Marketing strategies for the Fashion industry & traffic acquisition technics
> Fashion brands and The Social Web
> Search Engine Marketing and E-mail Marketing fundamentals
> Fashion Luxury and Mobile Marketing
> Fashion Pure-players as e-commerce spearheads

Prospective:
> Numerical senses
> Augmented reality, Virtual Made to Measure and connected sales staff
> Holography, 3D Printing and Connected Luxury High Tech
> Big Data, AI and CRM
> Responsive retail and Omnichannel strategies
This course in the marketing area has a focus on how companies use new Social Media strategies, influencers, and new communication tools to create a new customer experience. It will analyze the impact of digital transformation on companies' strategies.
This course provides an understanding of the management of diversity and inclusion and presents targeted and high-involvement diversity practices. It examines diversity in the contexts of teams and leaders, and it frames diversity in terms of current business and cultural challenges.
At the end of this course, the student should be able to:
Define a business opportunity
Identify the personal and industry related challenges of starting a business in the fashion industry
Conceptualize a business model
Draft a business plan
Identify resource acquisition strategies for a new business start-up in the fashion industry
At the end of the course, the student should be able to:
Assess a company's information systems in the light of the latest information systems trends
Understand when investing in an information system is a good/bad idea
Work efficiently with Microsoft Excel
The course will cover a series of key elements that contribute to define competences and behaviors of successful business leaders, including the difference between management and leadership and why today Emotional Intelligence plays a crucial role in the ability of leaders.
Introduction to event communication business: definitions & characteristics
Managing events for fashion & luxury brands in Asia: what does it mean? what does it take?
Event industry in Asia: landscape overview
Events at the heart of fashion Communication: how to produce a strategic event proposal – the look & the message
Managing the experience lifecycle: key steps to plan, produce and organize an event
Event on the D-Day and beyond
Real life: event brief and groups proposal
At the end of the course, the student should be able to:
Understand the core theoretical concepts in marketing and their application in fashion management
Understand the foundations of a marketing plan
Understand core strategic marketing concepts and their role, and perform basic analyses on the strategic level
Understand and perform the basics of operational marketing
At the end of the course, the student should be able to:
Clarify the links among company strategy, competitive advantage and organization design.
Examine in a systemic way features and critical issues of the organization choices at different levels: vertical and horizontal differentiation, degree of formalization and centralization, degree of job specialization.
Highlight the contingency factors that affect organizational choices: environment, company activities and size, company strategy.
Present some standard organizational design models: the situational model and the comparative design model.
Understand how to build an organization which continuously supports creativity and examine different "creativity models".
The class will be conducted in a lecture and discussion format, promoting student participation, opinion, and experiences toward the different subjects. Throughout the course students will be exposed to various teaching styles; class discussions, business examples and cases studies will be alternated during the course.
History and evolution of fashion shows
Today's context of fashion shows: Fashion weeks general Structures & cultural specificities
Discovering secrets of backstage
– Understanding the process of producing a show
– Introduction to the different actors
Focus on production companies & model agencies
Keys success factors and challenges: creating and planning a fashion show
– the days before
– the day of the show
From Diversity to Inclusivity
At the end of the course, the student should be able to:
Quantify relationships among various variables
Interpret estimation results and make predictions
Test the reliability of results
Mitigate problems that arise during econometric estimation
At the end of the course, the student should be able to:
Understand retail dynamics in fashion industry and easily manipulate retail concepts
Develop a comprehensive retail strategy for a fashion store:
– define the best adapted distribution model
– set long term and short term objectives for profit, sales, image…
– devise and implement a consistent strategy combining store location and design, product assortment, merchandising, pricing …)
– build store organization and efficiently manage the teams (sales and back office teams)
– follow and evaluate performance on regular basis / take correctives measures if needed follow and evaluate performance on regular basis / take correctives measures if needed
Be aware of career opportunities in retail and be able to seize them
At the end of the course, the student should be able to understand and determine various aspects of business strategy in the fashion and luxury industry. They should be able to explore the various competitive forces in the market environment and examine various corporate issues inside the organisation that determine the upcoming trends in this particular industry. This should allow the student to think and evaluate analytically, without missing on details, on the long-term business strategy formulation of the firm.
At the end of the course, the student should be able to:
Understand the characteristics of fashion industry;
Recognize the implications of competing in fashion industry;
Evaluate operations and supply chain in fashion industry;
Evaluate the use of , e.g., IT, in managing operations and supply chain in fashion industry
Develop solutions to improve operations and supply chain management in fashion industry.
The course provides an overview on the topic of CSR in fashion.
Fashion (apparel and accessories) is one of the largest industries in the world. Unfortunately, it is also the second most polluting industry after oil, an industry that has many negative social impacts along the value chain. The need of a more sustainable fashion, across all its segments including fashion luxury, is linked to both supply and demand drivers:
SUPPLY In the last years, many large companies have been setting CSR strategies with dedicated departments and many start-ups were created having sustainability in their DNA;
DEMAND The number of LOHAS (Lifestyle of Health and Sustainability) consumers (i.e. consumers that are taking buying decisions based on aesthetics + ethics) is growing in time.
The analysis of different business practices aims at providing useful food for thoughts to consumers and managers that are willing to face the responsibility challenge in the luxury sector.
This course will focus on people management processes to attract, develop, motivate, and retain high-performing employees in very competitive environments. Talent management is aimed at improving business performance in fashion and luxury companies and will help future managers understand how to use HRM practices and processes (such as interviews, performance management, training, compensation) for their daily work.
This course aims at providing students with a clear understanding of the global cosmetics and fragrance industry, including the cosmetics products industry, brands and products. They will learn the different categories of products, the legal framework, the main trends, brands and innovations.
Merchandising
Build Technical management tools Tool box, Merchandising Plan, Open to Buy and link them correctly together.
Buying
Acknowledge the pivotal role of Fashion buyers within the retail Fashion industry and more precisely within the Fashion Buying value chain as a key stakeholder.
At the end of the course the student should be able to link logically the merchandise plan to the range plan, while building a balanced collection made of branded or private label apparel.
This course examines the store as a communication tool for the fashion and luxury brand. It will address the evolution of the fashion and luxury retail and provide students with the skills to define clearly the in-store customer experience in store and to be able to evaluate the skills required for a performant sales staff.
Students will learn the basic processes and linked timings of the fashion system. They will get to know different key player roles that make this system work and turn around. In a further step, students will start to research past, future and contemporary fashion trends. They will learn the basics of trends, their creation and it affects on the final product offer. Students will have to find and understand the multiple links existing between fashion, its trends and global or national, social, political and economical backgrounds. The course is creative and based on discussions, brainstormings and small group project works.
This course will look at the "garment" from different angles to discuss and know the elements of a today's wardrobe. The course will address the origin and highlights of their evolution; the materials and colors related to the collections; the manufacturing constraints; shapes and volumes adapted to the morphology, activity and "fashion", as well as the price; and the trajectory from prototype to the shop article.
What is the law related to fashion?
How to protect your fashion creations, innovations and brands?
Some legal issues related to the manufacture and trade of fashion product
At the end of the course, students will:
Have a vision of the market and the brands.
Understand the concept of creativity and evaluate how it is applied to fashion and luxury products.
Identify how different types of organisations manage product design and development.
Understand of the value chain fashion with a focus on product development and production.
Know the fundamentals of fabric sourcing, suppliers sourcing, manufacturing environment and techniques, supply chain and information systems.
This course looks at the evolution of Fashion during the 20th Century with an introduction about the history of Costume. Clothing, accessories, textiles, hair and make-up, production, distribution and acquisition will be analysed through art, literature and other primary sources. Students will gain knowledge of the principal contributions made by famous designers to the world of fashion. Furthermore, students will study in depth the ways in which each designer was influenced by contemporary events and the world of art.
The course aims to illustrate to the students the signical and perceptual values (marketing oriented) of communication and its visual representation, to help them to choose the best solution in the creation and representation of the products and services and improve the critical approach and design.At the end of the course, the student should be able to decide which signs, codes and communication strategies are most suitable for designing and communicating in relation to the perceptual results to be achieved in order to characterize the its communication with those iconic or symbolic values best suited to bring out in the end user's desire to purchase. Learners will be able, therefore, to understand that Semiomarketing is the fast track for optimizing the target-client conversion rate and customer loyalty.
The course aims at providing students with a clear understanding of the different distribution formulaes in the worldwide fashion industry, looking at the segmentation of the fashion business, the international retail expansion and brand extension.
This course introduces participants to understanding the different kind of fabrics, how they are made, dyed, printed and their origin. Students will be able to recognise a family of textile; understand the manufacturing chain of different textiles techniques; create a story with textiles; know how to organised textiles as an atmosphere according a brand; and create his/her own textile reference book.
DAY 1: Discovering VM
> Defining VM, Past, Present and Future
> Experiential Retail: Connecting Brand, Product and Consumer on- and off-line
DAY 2: Exploring VM
STRATEGIC WINDOWS
> History and Evolution of Windows
> Behind the Window: Window Design
STRATEGIC INTERIORS
> Experiential Retail
> Product Zoning and Display Techniques
RETAIL EXERCISE
DAY 3: VM as a Strategic Business Tool
> Developing a Successful VM Strategy
> Identifying Corporate Strategies through Retail and VM
> You and VM, Career Opportunities
The course is designed to immerse students into the daily life of business consultants working for an ERP implementation company. Through interactive lectures, group assignments, and the intervention of four expert professionals, this course confronts students with the diverse expectations, tasks, and challenges functional consultants need to tackle. Combining theoretical concepts with hands-on exercises on a hypothetical business case, participants are expected to acquire knowledge on and experience with ERP deliverables and domains (i.e., Microsoft Dynamics 365), workflow design for top-level business processes (i.e.., Procure-to-Pay, Order-to-Cash), project management activities, and functional consulting analysis tools (e.g., XMind, Bizagi).
Our Career Program helps participants to establish their professional career plan by working on their skills, personal strengths, and using networking tools to be prepared to meet recruiters' expectations internationally.

At the end of the course, students should be able to:
Build a professional career plan;
Identify personal skills and accumulated experiences (e.g., Master experience);
Adapt professional tools (e.g., CV, LinkedIn) to the local market;
Develop an accurate representation of their professional profile;
Use personal networking to better identify professional opportunities;
Gain insight into techniques and tools to find a job or an internship in France or abroad;
Build self-awareness of personal vocations and interests.
Creativity is one of the critical components of an organization's ability to survive and thrive in today's competitive and dynamic markets. This course will provide participants with a rich understanding of how creativity can be facilitated and managed in a work setting. They will acquire knowledge regarding various theoretical conceptualizations (i.e., how do you define creativity), antecedents (i.e., what makes you and others more creative) and outcomes (i.e., what is the impact) of creativity as well as knowledge on design thinking techniques and tools to lead teams in the creative journey.
How do creative ideas happen? How can we foster our creativity and the creativity of those around us? What are the paths of creative development of individuals who are successful in their creative endeavours? What are the implications for fostering and managing creativity in the workplace? What are the obstacles to creativity? What is the nature of creativity in teams and organizations? These are some of the questions we will address. During the course, a variety of teaching and learning techniques will be used to enable participants to think critically and imaginatively about various perspectives of creativity. To realize the goal of a shared learning experience between participants and the instructor, the course is aimed at integrating real challenges and practical experiences of creativity, projects, presentations, experiential exercises, and critical reflection on the various course materials. 
This course provides participants with a profound understanding on entrepreneurship, new business development, and business plan writing. Through lectures, testimonials, field-work, and group assignments, participants are confronted with the how, where, when, whom, and why of starting and developing new business activities. As part of an international and multicultural team, participants are invited to work on an operational business plan aimed at either the creation of a new venture (NVC-track) or the acceleration of new business for an already established SME (NBD-track). This course's ambitions thus go beyond providing theoretical insights. Hands-on experience is gained through out-of-class field work covering all steps of the entrepreneurial decision-making process (e.g., idea generation, feasibility analysis, industry study, market analysis, marketing plan, production plan, product development, and financial statements). In doing so, participants accumulate entrepreneurial knowledge and behaviours that support innovative solutions and new value development.
Credited Language courses for all levels are included in the program. French is the mandatory choice for any non-French speaking student. For native French speaking students, other languages are offered (Chinese, Spanish, German – list subject to change).
Capstone Project: 4-to 6-month internship or work experience anywhere in the world. Alternatively, students can opt for a consulting project or a thesis.
Please note that courses are subject to change; please check with the local contact if you have any questions.
Zoom on… Learning Trips and Company Visits
Students have the additional opportunity, if they wish, to participate in a learning trip (for an additional fee). Several trips have been organized throughout the program in the past years to deepen students' learning experience, including a threeday study tour in Italy. Visits carried out during the previous editions of the Master included: Bottega Veneta, Gucci, Versace, La Perla, La Rinascente, Ferragamo Museum, Armani Silos, Gianfranco Ferré, Fondazione Prada, Premiere Vision, Ecole Lesage, and Atelier Chanel, Tranoi, 10 Corso Como.
Workshops and Corporate Events
Alongside the courses, the program includes additional workshops and corporate events to develop participants' personal and professional skills further. These cover a range of topics such as conflict management in cross-cultural environments and intercultural communication.
Our Talent program helps participants to establish their professional career plan by working on their skills, personal strengths, and using networking tools to be prepared to meet recruiters' expectations internationally.
Partnerships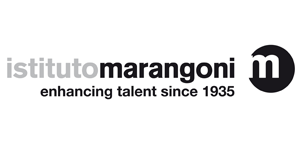 Partnership with Istituto Marangoni

Some of the courses offered during the Master in Fashion Management program are offered by faculty from Istituto Marangoni.

Istituto Marangoni was founded in 1935 in Milano as 'Istituto Artistico dell'Abbigliamento Marangoni' and in 2015 it reaches a special milestone, 80 years of history and success in training the top professionals of Fashion and Design.

Istituto Marangoni can praise itself for the education of four generations of students from 5 continents and for having launched over 45,000 professionals in fashion and luxury fields, such as Domenico Dolce, Franco Moschino, Alessandro Sartori, Maurizio Pecoraro, Paula Cademartori, Andrea Pompilio and Lucio Vanotti. It currently educates 4,000 students per year from 107 countries at its schools, located in Milano (the School of Fashion and the School of Design), Firenze (School of Fashion & Art), Paris, London, Mumbai, Shanghai, Shenzhen and Miami, the international capitals of fashion, design and luxury.

Its educational offering, broad and articulated, consists of:
> Undergraduate Courses (Preparatory, One-year and BA (Hons) Degree = Three-Year),
> Postgraduate Courses (Preparatory and Master's Degrees; Master's Courses; Cycles de Spécialisation) and
> Short Courses.

In January 2014 the new Istituto Marangoni School of Design has opened in Milano, Via Cerva, close to the current location of the School of Fashion.

For more information, visit www.istitutomarangoni.com
A double degree opportunity for Grande Ecole students
IÉSEG students already enrolled in the Grande Ecole Program admitted in the Master in Fashion Management can obtain a double degree: the GE (Grandes Ecoles) and the Master in Fashion Management, by adding just a semester to the 5-years Master program.
To be admitted, students are expected to validate their first year Master (4th year – GE program), by having finished the two semesters of courses.
During their 5th-year, IÉSEG students will follow all the fashion courses listed in the program and some of the compulsory management courses/guest lectures. They will write the memoire/project consulting on a fashion management topic, and during the additional semester (first semester of the 6th year), they will undertake a 6 months internship in a fashion company.
Fee for the additional semester: 5000 euros