Master of Science in Big Data Analytics for Business Program
Program
The Master of Science in Big Data Analytics for Business is designed to help participants mastering the business knowledge, the methods and the analytical tools to convert BIG data into BIG insights in marketing, finance and operations.
The program is offered on a full-time basis and consists of 2 consecutive semesters of courses (September – May) followed by a professional experience (from June onwards). The curriculum is developed around core modules in business, technology, and methodology, as well as specialized courses in marketing, finance, and operations.
In a connected world, data provide companies with the opportunity to align their marketing, finance and operations strategy with objective facts and figures. Participants will learn how to become data-driven managers, and will be able to spot analytical opportunities in a given business context.
Course Content
The program is offered on a full-time basis and consists of 2 or 3 consecutive semesters of courses followed by a professional experience.
The course tackles the basic principles of the project management field. Project management is a managerial discipline that is inevitable in a data-driven business context nowadays. In multiple industries as diverse as retail, financial services, pharmaceuticals, software and aerospace, analytical projects drive business. Effective project management often translates into gleaming new opportunities that often translate into increased sales.
The course fine-tunes the participants' communication skills of data-driven analyses. Developing analysts' communication skills helps in all aspects of their professional life; from analytical projects to social gatherings with colleagues and everything in between. The ability to communicate analytical information accurately, clearly and as intended, is a vital life skill for data scientists nowadays, and very often overlooked by a lot of companies.
The course gives insight into what makes someone a leader. The answer varies widely depending on who and when you ask. One thing is sure that there are traits experts do agree on, including personality components and acquired skills. One of the necessary skills of a data scientist is the possibility of identifying the necessary characteristics of leadership.
Our Career Program helps participants to establish their professional career plan by working on their skills, personal strengths, and using networking tools to be prepared to meet recruiters' expectations internationally.

At the end of the course, students should be able to:
Build a professional career plan;
Identify personal skills and accumulated experiences (e.g., Master experience);
Adapt professional tools (e.g., CV, LinkedIn) to the local market;
Develop an accurate representation of their professional profile;
Use personal networking to better identify professional opportunities;
Gain insight into techniques and tools to find a job or an internship in France or abroad;
Build self-awareness of personal vocations and interests.
This course introduces the participants to the field of business analytics by using a strategic angle. Various case studies are exposed to the participants to let them critically reflect how data science might deliver added value for companies.
The course covers the fundamentals of advanced spreadsheet analysis. In- and out-company data is floating around, and the skills to treat that data in an efficient and effective manner is imposing employees to sharpen their analysis skills. One of the most popular business tools is spreadsheet analysis.
This course is composed out of two main blocks, i.e. commercial versus open source business analytics tools. The overarching idea is that participants should be able to write SAS and R programs for data management, analysis and presentation. Both courses are completed with accreditations that boosts the participants' CV.
This course covers the concepts of a relational database and the industry standard Structured Query Language (SQL). In addition, this course gives its participants the necessary skill set to visual analytics using the Tableau software..
This course covers the principles of big data and its tools. Nowadays, due to information technology and the Internet, massive amounts of information are created and stored by companies. The data differs in terms of its volume, variety and velocity. These massive amounts of information are referred to as big data. Big data nowadays dominates the business practices, and how to gain knowledge out of these data is crucial for a lot of organization today. The participants are exposed to leading concepts in the field of big data like Hadoop, HDFS, Spark architecture, Hyve, Keras and Tensorflow, graph databases and streaming.
This course is a refresher of all necessary ingredients needed to successfully start the MSc in Big Data Analytics for Business. It focuses on the core concepts in statistics and linear algebra.
This course introduces its participants to the fundamentals of descriptive and predictive analytics. Nowadays, there is a tremendous increase in customer/company information which is available to the analysts. Indeed, companies are collecting different types of information like social media information, purchasing behavior, complaining behavior, socio-demographic information, etc. Consequently, knowing how to use this information to improve relationships is of high benefit for every analyst, because better decisions are based upon that. This course tries to fulfil the gap by reaching participants new ways to describe data and to interact with customers on a one-to-one basis.
The aim of this course is to present a concise description of some popular time series forecasting models that are based on the regression framework. Time series modeling and forecasting has fundamental importance to various practical business domains.
The course addresses the topic of how network models are pervading actual business and social life. Social network analysis (SNA) is the use of network theory to analyze social networks. The course aims to introduce SNA as one of the most innovative and successful fields of management research. SNA is a method for representing and analyzing the structure of relationships among nodes of a network. How many friends do you have on Facebook? How do you act in the networks of social relationships? How many followers on Twitter? Are you a LinkedIn user? How many links can you manage? What are the structural characteristics of your social network? Which kind of network relationship could provide the best chances to find what you are looking for? The same kind of questions can be applied to the business environment in order to understand how companies are dealing with the increasing number of relationships they have to manage (alliances, customers, suppliers, employees, etc.).
The purpose of this course is to give the participant a theoretical and practical insight into the foundations of statistical hypothesis testing and regression analysis.
In this course, you will learn about the design of recommender systems: the underlying concepts, design space, and tradeoffs. A participant should understand the design space of recommender systems and be able to provide design recommendations for a particular application domain, as well as critique a design to point out its strengths and weaknesses.
This course introduces the participants into various statistical and machine learning algorithms for data –preprocessing, modeling and evaluation. This is a fundamental course in the curriculum as it delivers theoretical and hands-one experience in applying basic to state-of-the-art algorithms on various prediction problems.
Recently, the data collection within organizations has translated in an explosive growth in the popularity of social media data that is used to reach, engage, and grow the relationship with prospective and existing customers. This course affords the participants the opportunity to learn and analyze the new social media data that is transforming the business landscape. You will walk away having analyzed unstructured digital media data, mainly coming from social networks like Twitter.
This course introduces the participants in the field of credit scoring. Nowadays, various information is available within the organization to focus on a data-driven approach to assign a credit risk to consumers of the company.
The objective of this course is to introduce participants to Python programming with a focus on financial applications. At the end of this course, participants are fluent in Python programming and can take part in a certification exam.
This course provides an applied perspective on Mathematical Programming (MP), instead of focusing on algorithms. In particular, it serves 3 purposes: (i) providing a selective catalogue of practical MP problems faced by managers, (ii) linking these problems to the different types of mathematical optimization methods, (iii) formulating MP problems and interpreting their solutions within a spreadsheet.
This course delivers the participants a unique and hands-on experience of solving a real-life data science challenge for a company. The participants do work in teams in a three-month like hackathon projects to deliver a data-driven solution that is acceptable by both the data scientists and the business managers. The supporting staff is composed of both academic and company supervisors.
4-6 month internship or work experience, thesis, or consulting project anywhere in the world.
Consisting of five courses and one collaborative project, this semester is designed to be an immersive experience in entrepreneurship. With the help of cutting-edge materials and pedagogy, students learn about entrepreneurship in both a theoretical and practical sense. At the end of the semester, they will have experienced key elements of the entrepreneurial process, including ideation, customer development, and market validation. These skills are necessary for opening a startup or driving change in any organization.

The Entrepreneurship Addendum in details
French language lessons for all levels are included in the program for international students. French is the mandatory choice for all non-French speaking students.
*optional additional semester
Zoom on… An integrated business project
The MSc in Big Data Analytics for Business offers its participants a real-life consulting assignment at the end of the academic year. This project has the intention to put the competences and skills absorbed over the academic year into practice. In collaboration with a company, participants have the opportunity to solve real business problems using the various techniques and methods that they have acquired.
Last academic year, the project was organized in the form of a three-month data science hackathon. Previous supporting companies are Microsoft, Graydon, Mealhero, Delaware Consulting, Oney, Cofidis and Crédit Agricole.
Workshops and Corporate Events
Alongside the courses, the program includes various workshops and corporate events to further develop your personal and professional skills. These cover a range of topics, such as conflict management in cross-cultural environments and intercultural communication.
Our Career Program helps participants to establish their professional career plan by working on their skills, personal strengths, and using networking tools to be prepared to meet recruiters' expectations internationally.
INTERNSHIP
During their internship, students are able to combine theories of management with hands-on experience and apply the cross-cultural skills they have developed at IÉSEG.
Big Data Engineer, Customer Data Analyst, Data Analyst, Data Architect, Data Quality Engineer, Data Science Researcher, Data Scientist, Online Marketing Analyst, Performance Analyst or Pricing Intelligence Analyst for example: the internship opportunities offered by the program at the end of the curriculum are multiple.
Some companies which hire our interns: Trivago, Accenture, Teradata, Honda Europe, Bombardier, KBC, Materialise, Pipecandy, McAfee, CapGemini, Allianz, Sodexo, BNP Paribas, Bloomon, Auchan, AXA, etc.
The internship can be undertaken in France or abroad. Most students have done their internships in Europe or in Asia for example.
Partnerships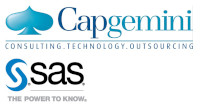 IÉSEG is proud to be partners with Capgemini and SAS for its MSc in Big Data Analytics for Business program.
These partnerships with some of the world's foremost leaders in data science and analytics enriches participants' views on big data analytics for business. Partners will share their expertise, professional perspectives and insights on current trends in their field of expertise with participants through coaching sessions, guest lectures, real-life case studies and company visits.
The opportunity to learn about concrete professional issues from business leaders and to gain exposure to the real-world experience of successful practitioners are key assets of the program.