Back
A look at IÉSEG's MSc Program partnerships: collaborations to further students' professional projects
IÉSEG currently offers 9 MSc programs (Masters of Science) that cover a large range of fields (finance, big data, consulting, accounting and audit, etc.).
These programs, all taught in English, were developed to respond to companies' needs in France and abroad, and to capitalize on IÉSEG's academic and professional experience. Companies and organizations, renowned in the programs' domains, also wished to associate their name with a specific program. Their contribution manifests itself in different ways, according to the needs of each program.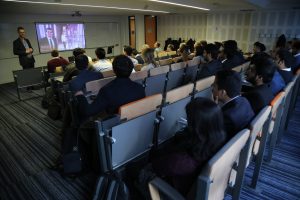 These partners share their expertise and professional perspectives in their sector and company with students through different interventions, case studies, or visits. (These partner companies are also invited to recruitment sessions and exchanges in order to allow students to develop their network, and for them to benefit from exchanges with potential recruiters).
Contributions from different partners allow all students to enrich their academic knowledge by familiarizing themselves with concrete questions related to the business world and gaining experience from professionals.
Current partners of these programs include:
IÉSEG also works with professional institutions, to enable students to take recognized certifications in parallel to their MScs.
Here are some examples:
Furthermore, the MSc in Fashion Management results from the collaboration between IÉSEG and the renowned fashion & design School, Istituto Marangoni.