Back
IÉSEG launches its Plastic Free Initiative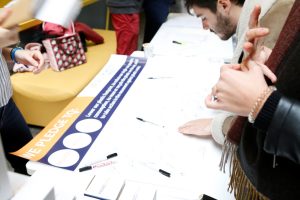 IÉSEG has launched a new Plastic Free initiative this week on both its Lille and Paris campuses. The aim is to reduce the usage of single-use plastic cups, through the distribution of reusable water bottles to all staff and students.
In exchange for these water bottles, members of the IÉSEG community also sign a Plastic Free pledge, committing to:
• lowering their plastic footprint
• reducing single-use plastic consumption
• reusing or recycling the plastic they use
• taking action in the movement against plastic waste.
This new initiative is the result of the Big Idea Challenge, a competition launched earlier this year in the framework of the School's CSR Day held in March. All of the IÉSEG community (students, academic and administrative staff) were invited to submit ideas about possible sustainable projects that could be put into place at the School.
The Plastic Free project, selected by a jury of staff and students, combines the two winning projects, Ecodrink (a student project) and Copenhagen (a staff project), which were both aimed at reducing single-use plastic in the School. A total of 13 members of staff and students have worked on the launch/implementation of this project.
The launch of this initiative took place during the semaine de sensibilisation (awareness week), organized by representatives from the student associations in Lille/Paris, and aimed at raising awareness about a certain number of themes, such as ecology, discrimination, addictions, etc. In the framework of this week, students actively participated in the distribution of the water bottles.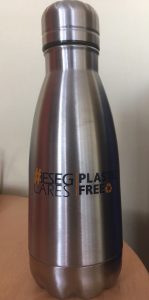 "It's very exciting to see the Plastic Free initiative come to life! This project is the result of a co-creation process between different members of the IÉSEG community and a great example of collaborative engagement. It is in line with our Vision and Values, and will have a strong impact in our community.
This is just one of many sustainable development/CSR related initiatives at the School , and part of a wider effort to continue to reduce waste at IÉSEG," Maria Castillo, the CSR Manager at IÉSEG, explained.