Bachelor in International Business
Overview
The Bachelor in International Business (BIB) is designed for students who are not afraid to stand up to the challenges posed by today's global business landscape, have the ambition to make a serious impact in shaping our society, and strive to become real changemakers in their future careers.
Through theoretical and applied courses, our Bachelor Program provides students with a solid understanding of the international business environment. The acquisition of an excellent foundation in the disciplines of management and the development of professional knowledge are assets for entering the professional sphere with confidence and serenity.
The program is accredited by the Université Catholique de Lille as a "Diplôme Universitaire", by the French Ministry of Higher Education (VISA BAC+3) and certified with the Grade de Licence. The Bachelor in International Business, Diplôme d'Études Supérieures en Affaires Internationales, is entirely taught in English on our Lille or Paris-La Défense campuses and is designed for students interested in Management and International Business.
Three internships (10 months minimum) and an international exchange and/or professional experience abroad (3 months minimum) are part of the program as well as the possibility of taking a double degree, our triple European Bachelor's degree or a gap year.
Bachelor in International Business – IÉSEG
Directors' foreword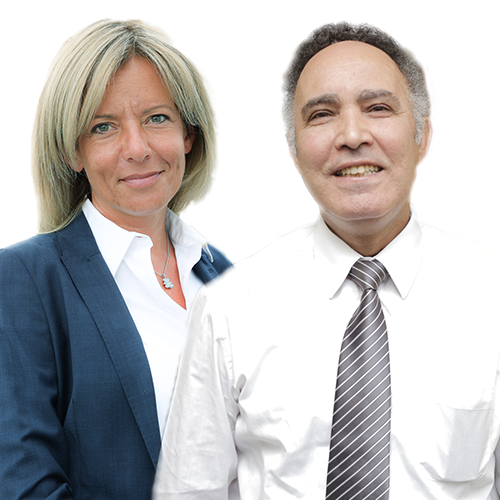 Dr. Hassan EL ASRAOUI and Dr. Bernadett KOLES
"The BIB is a comprehensive program that provides a combination of management theory and practice with skills needed to flourish in today's competitive global market. In addition to coursework that introduces students to core, advanced and specialised topics, the program nurtures personal and professional growth in line with our student's individual aspirations. Upon completion of the program that includes several internships, our graduates can choose between entering the market directly or pursuing further specialised education. Either path they take, we are proud to see our students launch their career and carry along our community's values."
Key program advantages
A comprehensive education based on four key pillars: in-depth learning of management fundamentals, relevant and innovative specializations, personal development at the core of the training and a comprehensive Career Program dedicated to professional development.
Renowned and accomplished international faculty with high-level academic achievements, cutting-edge research and recognized professional expertise.
A minimum of 3 internships (a total of 10 months or more) enabling students to apply their learning to practice, gain experience in the professional world and build their professional network.
A minimum of a 3-month international experience in the form of a university exchange, a gap year, an internship abroad or any other international professional engagement.
Possibility to participate in a university exchange for a single semester; to access several Double Degrees with prestigious partners; or to follow our exclusive European Triple Bachelor degree.
Capstone Project in line with the student's field of specialization and professional aspirations.
Triple Degree in International Business
Giving students a global insight on how to do business is the aim of a unique new collaboration between IÉSEG and two leading business schools in Europe.
The new European Business Bachelor will see students learn and live in three different European countries over four years, studying at the Sheffield Business School, IÉSEG School of Management in Paris and IQS School of Management in Barcelona.
BIB students will have the opportunity to:
Study European Business whilst learning and living in three different European countries over 4 years.
Obtain a unique triple degree from three AACSB accredited business schools in Paris, Barcelona and Sheffield.
One Program – Differents Paths
By completing the program within 3 years, students are enable:
Completing the program in 4 years allows students to:
>

take a gap year,

>

gain additional professional experience,

>

complete a Double Degree,

>

or choose the European Business Bachelor's Triple Degree in International Business.
Credits requirements are higher when pursuing one of the 4-year degree program options.