Back
IÉSEG's "Career Weeks" – a key step for professional integration
From May 31 to June 11, IÉSEG's "Career Weeks" took place – a major event for students in the 1st year of the Master's cycle of the Grande École Program. These special weeks are part of the 'Career program', which aims to help Grande École Program students prepare for their professional integration. "By including the Career program in the core curriculum and making it compulsory from the first year, IÉSEG stands out from other schools," explains Valérie MARRAGOU, head of the Career Center (Lille & Paris) within the Corporate Relations Department.
Here is a closer look at the key stages of the support provided by IÉSEG to its students.
The Career program was set up to help students build their professional project in line with their aspirations, their skills and the socio-economic reality of the job market. Composed of three key stages, the program is an essential part of their curriculum and supports them during important periods in their student life:
– at the beginning of the first year of the Grande École Program, they work on developing their professional network
– at the end of the second year, they work on choosing their orientation and their major
– finally, in Master 1, they are better equipped for their job search.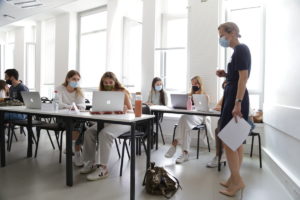 The courses are taught by external lecturers, professionals, and certified coaches.
The Career program ends with the "Career Weeks" – two intensive weeks during which students participate in workshops, work on case-studies and practice role-playing with managers from diverse companies. These situations allow students to better project themselves in the professional world. The "sales challenges", for example, consists in the simulation of a sale in groups of two, in front of a jury composed of a company employee, an IÉSEG professor or a partner of the School.
In addition to this program, students have access to numerous online tools and platforms provided by the Career Services department, as well as weekly workshops in French and English on specific topics such as resume writing, interview simulation, salary negotiation, etc.
Personalized coaching sessions are also available for students who wish to work on a specific issue, such as job search techniques, improving their resume, finding an internship, etc.
Finally, the Career Services department allows students to develop their network through events organized throughout the year, thus fostering opportunities to meet with numerous companies. "In total, we organize about 160 events per year, including career conferences, networking events, forums, dedicated recruiting events, etc." explains Axelle ROUSSEAU, Career Services Project Coordinator.
Most of these events are held online, making them accessible to all students at the School, especially those currently abroad.
The support that IÉSEG students receive allows them to make real progress throughout their studies and is a springboard for starting their professional lives.
Find the results of the CGE 2021 survey on graduates' recruitment