Back
Training for jobs in Finance thanks to a variety of paths and programs
IÉSEG is a major player in finance training and has developed innovative programs adapted to market expectations. Thanks to its majors such as "Asset & Risk Management" and "Financial Transactions and Corporate Strategy", its apprenticeship programs such as "Financial Institutions: Risk, Compliance & Data Analytics" within the Grande École program, its Masters of Science in "Finance" and « Banking, Capital Markets & Financial Technology » and its Executive program in "Financial Management"… IÉSEG offers a wide variety of paths and programs that meet the professional goals of all its students whether they are in their initial training or executive education.
Thanks to the closeness of the Academic Directors and Corporate Relations with the banking companies and financial institutions, IÉSEG has managed to adapt to the new requirements of the sector and to the new needs of companies in terms of knowledge and skills. While relying on a high-quality theoretical training, the School places a great importance on practical experience.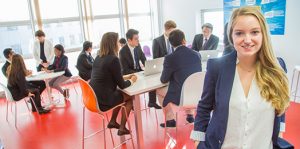 Thus, in 2020 IÉSEG developed its Master "Financial Institutions: Risk, Compliance & Data Analytics" in apprenticeship. It is the first Master in apprenticeship in France that is dedicated to risk and compliance from a financial point of view. "This program is essential for financial institutions that express an increasing practical need in this field, which has been seen until now from a legal and non-financial perspective. Compliance is not just a question of theory but of practical applications on a daily basis, there are not necessarily general rules" explains Jérémie Bertrand, Academic Director of this Master's program.
With the aim of always helping its students and young graduates to integrate into the professional world, IÉSEG relies on its ecosystem via the Professional Advisory Boards (a committee that reviews academic programs, made up of professors from the School and professionals from the sector), regular contributions from experts in the courses to share their knowledge, passion and skills with the students, or even meetings with directors and players in the field from well-known institutions, such as Société Générale, BNP Paribas and Cofidis.
Finally, to respond to the increasing demand from companies that wish to upgrade the skills of their employees in constantly evolving financial functions, IÉSEG develops regularly tailor-made training modules with partner institutions such as BPIFrance ("Financing Growth", for a target group of high-growth French SMEs' leaders) or Orange ("Creating Sustainable Value", designed for Orange Europe's finance department) and, has been offering since 2016, in partnership with CEGOS, an Executive Program in "Financial Management" on its La Défense campus.